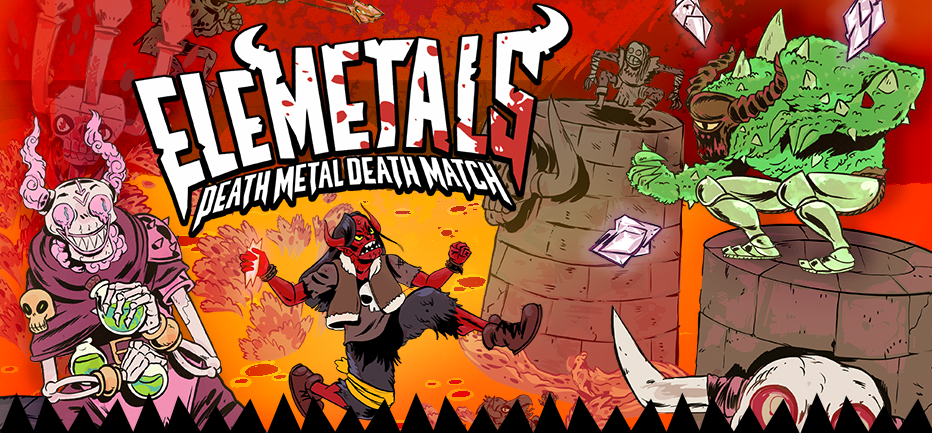 EleMetals: Death Metal Death Match
EleMetals DEMO v0.91 - Patch Notes
---
The EleMetals Demo v0.91 is now LIVE!!!
Check out the patch notes below:
v0.91
Gameplay Tweaks
Falling/Sinking platforms now sink faster
Game now shows who won the match before Round Over screen appears
Dashing into another Dashing character will cause a more consistent bounce
Massive Attack Tridents will now break Breakable Pipes and Potions
Visual
Getting Banished by falling in Lava will now display "Banished" messaging
SHRED animation fixed to remove gap
All camera backgrounds are now black instead of blue
Reduced smoke effect on Revive Explosion
Massive Attack warning effect now grows across the screen for better visibility
Fixed several cases of sprite sorting layer issues
New Game Icon
More informational How To Play screen
Audio
New SFX for lava flood and the lava pipe turret
New SFX for when two players collide during a dash.
New SFX for end of round screen
All sounds should be spatialized properly now
Bugs/Etc
Bug fix - Pausing on game start no longer causes players to stay frozen
Bug fix - Players will no longer get stuck at the loading screen on the main menu
Potential fix to characters getting looping squash and stretch animation
Pressing the Esc key will now exit Demo
Download and play NOW!!!
Also if you haven't already, follow us on TWITTER and join our DISCORD today!!!

Files
EleMetals_DEMOnicEdition_v0.91
121 MB
Get EleMetals: Death Metal Death Match